At Waterhouses, we follow a values based education. Through this a positive culture for teaching and learning is created which is based upon valuing ourselves, each other and the environment. Our School Values support the development of the whole child. As a church school, our values education is rooted within the Christian faith.
Our vision is to provide a stimulating, creative and inclusive learning environment based on Christian values in which all children will thrive and achieve the best that they possibly can. Central to our vision, school life is built on our core values of Love, Hope, Trust and Respect
The ethos of our school is supported by 12 core  values which are addressed directly through lessons, worship and across the whole curriculum. Each half term we focus on a particular Value. We learn to understand what the Value looks like and how we can demonstrate the Value, in the way we behave, in our attitude towards each other and in our learning
The 12 Values are taught on a rolling programme.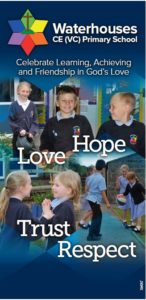 Here is how we have arranged the values through the year:
​We now have home–school link information sheets to support development of the values at home
2016/17
Autumn 1    Thankfulness
THANKFULNESS
Autumn 2    Hope
For further information about Values Education please use the link below.