Otters' Class Nativity – 12th December 2019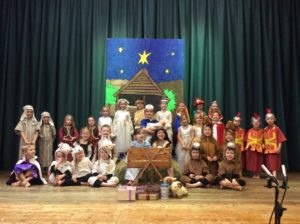 Otters' class performed their nativity "A Midwife Crisis" on Thursday evening.   It was a triumph with all children giving a sparkling performance.   Thank you to all that came to support the event; it was a packed house.   Thank you also to the PTFA for providing refreshments.   Most of all a great big thank you to the children for their amazing performance.   Mrs. Cooper, Mrs Derbyshire and Miss Hall are so proud of you all.
Thank you for your generous donations towards next year's costumes and licences.  A super total of £136.56 was raised.