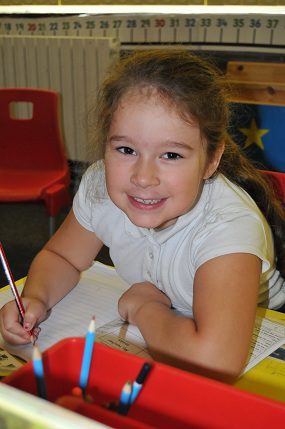 We believe that writing should be a creative/developmental process both at a functional and an imaginative level. All attempts at writing are valued and we believe that all children have the potential to be successful writers. The school environment celebrates quality writing through displays of writing. Writing is an integral part of every day at school. Adults in the school act as good role models and functional and creative writing is demonstrated by staff and visitors.
Foundation Stage
Children experience writing in a range of settings through all areas of learning. Children's own attempts at early writing are celebrated and promoted, alongside the direct teaching of the key skills that will enable the children to progress through the stages of writing. In the Foundation Stage our children begin learning how to write individual letters and words which they soon include within sentences, lists, labels and captions.
Key Stage 1
By the end of a Year Two children are able to write their own full texts maintaining the style of text and purpose for writing. Within English lessons children develop the skills to become competent, skilful and fluent writers.
Key Stage 2
Within Year Three and Four children consolidate their writing skills, varying sentence types within paragraphing in a way that can be applied to a variety of text types.
By Year Five and Six, children have become confident writers. They can write in an engaging manner that sustains the interest of the reader and achieves the writing's purpose.
Teaching of writing at Waterhouses focuses on four main elements:
Writing: Handwriting
Writing: Punctuation and Grammar
Writing: Composition
Writing: Spelling
See Waterhouses Primary School Writing Non – Negotiables document for more detail of how these elements are taught at each year group.
Handwriting
Cursive handwriting is practised formally in short focused sessions and reinforced throughout the curriculum. By the end of Key Stage 2 it is expected that children have developed a fluent, continuous, cursive style of handwriting. The cursive handwriting style helps to minimise confusion for the child as every letter starts on the line with an entry stroke and leads out with an exit stroke. As letters naturally flow into each other, this helps children to join their handwriting. Cursive handwriting helps children to form spacing between words and the child develops whole word awareness. This helps to develop a child's visual memory and supports improved spelling.