Pupils are elected by their class to become members of the Worship Council. Because we are a church school, we want to help everyone to enjoy worshipping God.
This is what we do:
Discuss worship and how it can be even better.

Help choose worship songs.

Think and talk about the church ethos of our school and how it can be further improved.

Look for children who are demonstrating the Christian value we are focussing on.
Every half term, we hold a celebration worship for the whole school community at the Methodist chapel in Waterhouses. Here is the Worship Council saying the hand prayer and children receiving certificates for their achievements.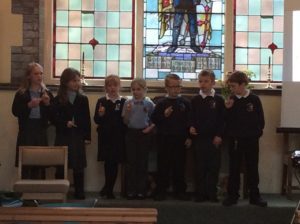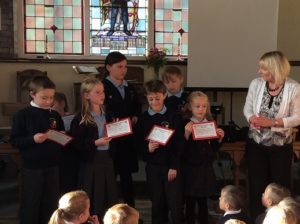 Visit from Bishop Geoff to open our spiritual garden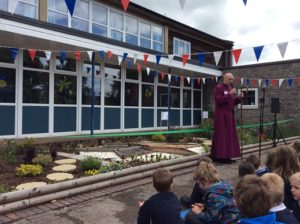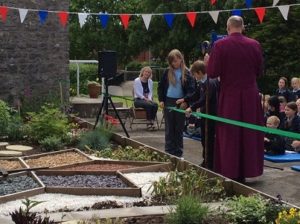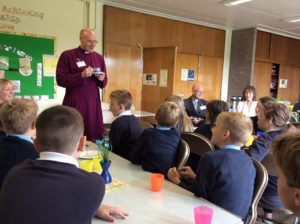 The whole school worked together to produce a piece of art work to support The Douglas Macmillan ' Expressions of Care' Project. The children learned about the work of the hospice and took part in art workshops to express their opinions and feelings about the charity. Our work was displayed at the Potteries Museum and Art Gallery in Hanley.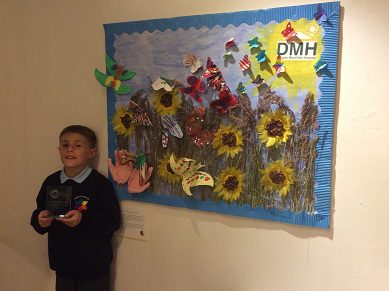 We held a fantastic RE and PHSE Day called 'How can we be the best that we can be?'  We used the story of David and Goliath as a starting point to help us recognise our own achievements so far, to think about how we best rise to challenges and to recognise our own God given potential. Here are some photographs of the day.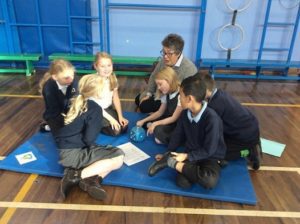 We are talking about our achievements.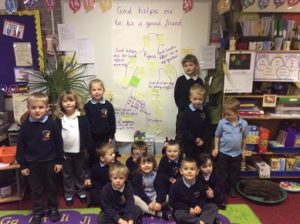 We discussed how God helps us to be a good friend.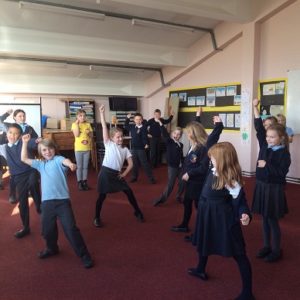 Acting out the story of David and Goliath.
KS2 completed an art activity called 'David's Stones'. The black circle represents things that stand in the way of us reaching our full potential eg fear, illness, attitude. The coloured dots represent the positive things in our lives that help us to be the best that we can be eg family, school, determination. The white dot in the middle represents the most important thing in our lives. For David, this was faith in God, for others it might be family or friends.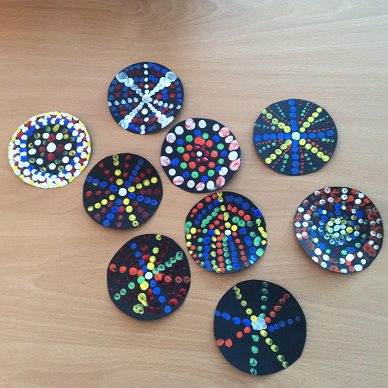 This year, we have supported Samaritan's Purse, Operation Christmas Child. We collected items to put in shoeboxes for girls and boys in need all over the world. Father Arthur blessed the boxes at the end of worship before they were sent off. We had a wonderful carol service at Blore Church this year.