Drowning Prevention Week 2021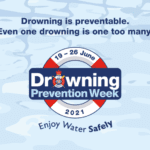 19th to 26th June is Drowning Prevention Week (DPW). It aims to equip everybody across the UK and Ireland with the skills and knowledge, to make the right decisions about water safety. Swimming isn't just a critical lifesaving skill, it's a skill that opens up a lifetime of fun and adventure in and on the water.
For further information please go to  https://www.rlss.org.uk/pages/category/drowning-prevention-week-2021
Also to enter an online virtual duck race for a chance to win a prize as well go to https://www.balloonrace.com/rlssuk
Waterhouses community swim have also shared some information on their facebook page, do take a look.