Friday Wellbeing Day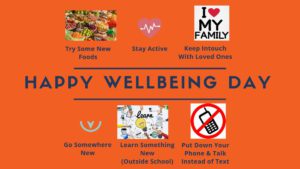 As you are aware, tomorrow afternoon is our first 'Wellbeing Friday'. We understand the stresses remote learning can put on families and I can only reiterate how grateful we are for your support and commitment in supporting your children's learning. All of the teaching staff would like to say a big 'Thank You' to you all.
I know you will also join me in thanking ALL of our wonderful staff. I can assure you; I have never come across such a dedicated and caring team of professionals. They have been working incredibly hard to ensure children, (whether working remotely from home or in school) are receiving the best education during this difficult time. One thing that is certain, we know that children learn best in school and we all look forward to the day (hopefully in the near future) when we can open the doors to all.
With this in mind, the aim of tomorrow afternoon, is to allow children, parents, and staff to have time to focus on their wellbeing (Healthy Minds and Healthy Bodies). Whether that is snuggling up as a family by the fire, with a film, popcorn and hot chocolate or being more active, getting out and about in (we are very blessed to live in such a wonderful location)!
The choice is yours; we will also put some suggested activities that you may wish to do but these are only suggestions. We hope it will give you a chance as a family to come together and spend some precious quality time together without the pressures and challenges of remote learning.
There is also a wonderful story that Mrs Hulme has recorded for you to all enjoy that I will post on Class Dojo.
We all hope you have a wonderful, restful, and enjoyable weekend.
Mr Dodson